For BPC 242, let me share to you some photos of our Thanksgiving Day Celebration last Nov.21 of 2013.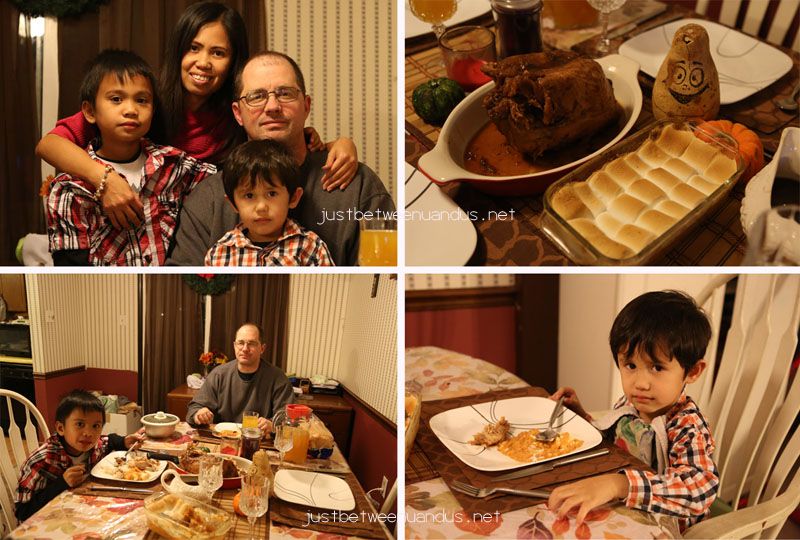 We had a simple dinner with just the four of us here in our humble abode. I tried to make it traditional by having a turkey for dinner. Since we can't consume a whole turkey, I bought a breast turkey instead. The breast turkey that I bought was as big as a huge whole chicken which was still quite big for us four. And since I don't know how to brine and roast it, I decided to cooked it in a crackpot with cranberry sauce and onion mix that I rub around the turkey and mix the rest with the cranberry sauce. It came out really good. It was so tender and so juicy! I also made some baked sweet potatoes with marshmallows on it as sides. I was gonna make mashed potatoes but hubby said that the sweet potatoes and the turkey is enough for our simple dinner. My boys love everything that I prepared and had a hard time breathing afterward for they are so full. lol!
It sure was nice to dine together with my boys. We seldom do this, because hubby works until 11pm everyday. So eventually the only time that we can dine together is if there is something special going on then he quits early to have dinner with us together.
Looking at my boys so happy and contented, made me feel so happy and thankful! I was happy that we were able to celebrate Thanksgiving Day together as a family. We had so much to be thankful for, to God who blessed us abundantly this year, to our extended family for being so supportive, for friends who are always there, and much much more. We were grateful for all the food that we ate and hope that we can share our dinner with the less fortunate especially those who were affected by the typhoon Hayain. I told my kids not to waste any food, and just get the right amount that they can consume so it wont go to waste, because there are families out there who have nothing to eat. I explained to them how lucky they are to have a roof over their heads, clothes to keep them warm, and food to eat cause at this time there are a lot of families especially in the Central part of Philippines who has nothing not even a roof over their heads. Seeing them listening to me intently was so precious. So I am happy to share to you our Thanksgiving Dinner. How about you? How did you celebrate THanksgiving?