Clayton and I went to the mall a couple of days ago. I decided to buy him a new pair of shoes since his old one is a bit snug on him. But before we went to the mall, we went to the consignment store first, here in our area. I was hoping that I could get a used nice shoes, but I cant find anything that I liked, instead, we got this toy puppy that he found in the store, and was attached to it right away.
Photos below shows how much he like his doggie. He walked with it in the mall, and every person we passed by looked and talked to him, and said something about his doggie. They thought its so cute! I find it so funny though, I can't helped giggling at him, cause he looked so serious. 😀
He was very behave all throughout the day while I was shopping. Now I know how to keep him settle down. We will just bring doggie every time we go shopping.
Project 366 Blog Photo Challenge #40
Red Hot Thursday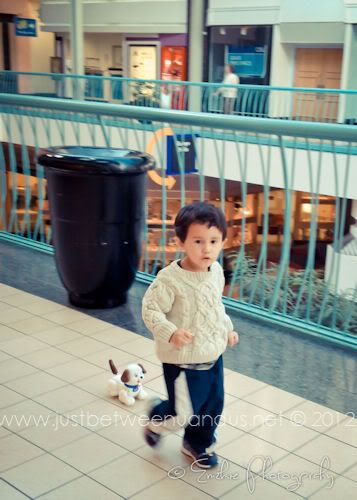 Please follow and like us: