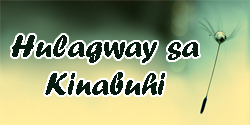 sa letrang D para sa meme Hulagway sa Kinabuhi ang akong entry karon ay… DALAN. baw!

Country road… take me Home..
to the Place.. where I belong..
West Virginia… Country mama..
take me home.. country road..
Mao intawon na ang una nakong nahunahunaan pag abot diri sa Yo-Is. Wa ko nagdahom na diri man diay mi sa country puyo, dili man nuon layo sa kabihasnan kay duol man mi sa York City, one of the oldest City daw diri sa Tate, daghan pud mga tindahan, ug mga malls diri sa among lakbayan.
kining picture sa taas, mao ni ang dalan from Maryland to Pennsylvania,
Cge ko agi diri kada duha sa bulan, para palit ug lamiang pagkaong pinoy foods. Mga almost 2hours pud akong drive padulong sa tindahan. hastang layua! lol. worth it man pud.
as you can see at the side.. ang speed limit kay 65mph(105kmh). Mao na ang pinakataas diri na speed limit sa East Coast. Wala intawon nagsunod ana nga balaod, ako ra cguro kay hadlok ko sa ilang photo enforcement daw. ambot unsa ka tinuod na. lol. Paspas man kaayo ug dagan ang mga sakyanan diri, muabot man ang uban ug 90(145kmp). Akong pinakapaspas cguro kay 75mph(120kmp) ra. Wala cguro photo enforcement no? kay paspas man kaau sila dagan. hehehe..
ganahan ko ug drive diri sa country kay way trapik, lami pa dyud ang hanging, no stress kaau, dili saba, ug very peaceful. Mingaw pero hayahay.
anyway.. salamat sa pag basa aning akong entry!!