Finally Im in my New Year's update! lol.
I had been trying to catch up with my blog and I want it to be updated all the time. Thanks to Photo Blog Challenge Meme, I am able to update this blog everyday. I so wanted to share to everybody, specially to my friends and family in Phil, on whats going on with my cute Family here in the East Coast. I got so much memories to share everyday. I wish I could find more time to blog. But,  the little guy in the house keeps me occupied all the time.
Anyhow, below is my share for todays Photo Blog Challenge Meme, and Wednesday Whites.
On New Year's Eve, my Kids were  busy making their own New Year's Banner. It was my Kuya's idea to make one, so I did the lettering and I let them color it.
Here is the little guy busy with his art work. He look so serious in this photo below. 😀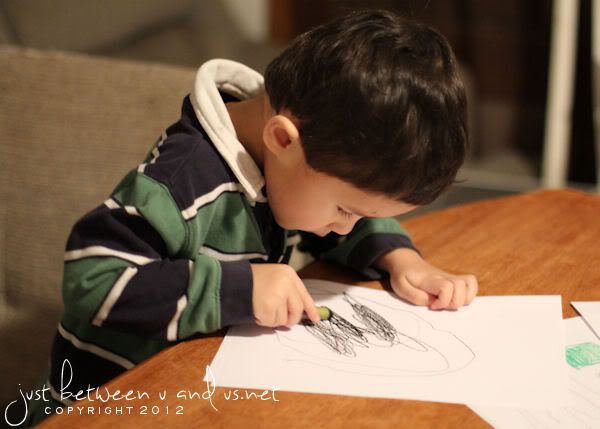 And here is Kuya, putting up our Banner
And the little guy put up his artwork as well. 😀 He is so funny, isnt he! lol
And tada!!! here is our Banner. 🙂
Our New Year's Eve was quite quiet.  But we welcome it with a Scrumptious Meal and a little bit of  Torotot. 😀