My eldest son Jian learn to read first than communicating. He started reading by the age of 2. He read words that he havent heard or seen before. My mom told me nobody taught him how to read yet. I was in Taiwan when she told me about it. At first I coudnt believe it, but when I got home from Taiwan, I was shocked when he read the title of the book " Fairy Tales," that I brought for my niece. I was amazed! He just glance at the words and blurt it out just like that, no pauses, he didnt even stutter. Because of this, we thought that he is a gifted child.
He loves to read, thats all he did on his first year here in US. We got him lots of books from the swap shop and he read all of it. He even read encyclopedias without pictures. The love of reading was endless.. until recently… when he discovered about games, computers, laptops, etch…he seldom read anymore, only on bedtime and if he has homework.
To encourage him back.. I took him to the Library, like every month to borrow some books that he likes.
And below are the books that we borrowed a couple of days ago. If you notice, some of it are from juvenile section.
He likes to read about trucks, animals, trains,  and Fairy tales books.
And by the way… he has photographic memory. He can draw all the details from the book. 🙂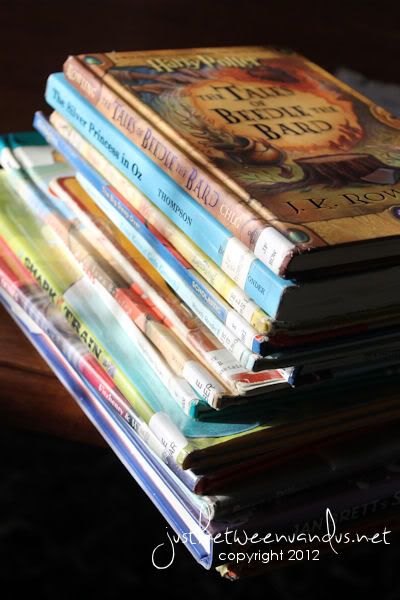 This photo above is my entry for #13/366 Blog Photo Challenge .
Below is a video of him reading on bedtime. He was only 4 in this video.