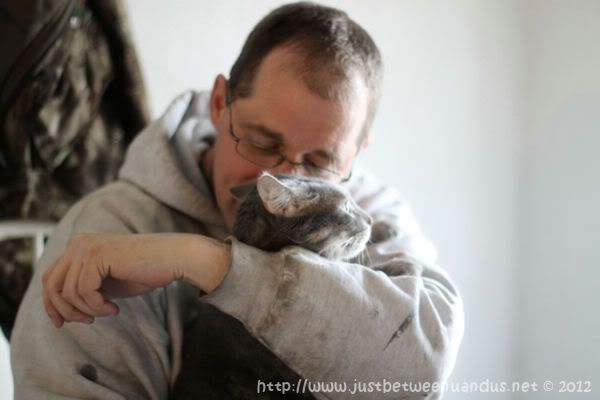 Hubby's first love are his pussy cats. 😀
He had 2 cats when I just got here in US, one was gray and the other one is orange. They say the gray one was his first wife. I used to get jealous because the first thing that he would do, when he comes home from work, is to give his kitties a kiss and a snuggle. And as for me…ignored and just walk by like I was not there. I was like.. what the f@#$! lol.
I didnt know that he was such a cat person. He would take them to bed with him, to the bathroom when he goes, let them sit on the table, and eat on his plate. Thats how in love he was with his Oscar, the gray cat. When Oscar died 2 years ago, it was like the most painful day ever for hubby. He had him taxidermy, and is now sitting upstairs in his room. About the orange cat, he is in my MIL now, due to his condition.
You can see in the photo above, how he kisses my jubal. Jubal is my kitty. He got me Jubal 4 years ago, to keep me company whenever he is at work. Isnt that sweet?
I really appreciate it, and so happy that he got me Jubal. Jubal is such a sweet cat. He comes to me whenever he is hungry.
Before, I don't understand this kind of behavior, but later on, I got used to it, and, it doesn't bother me anymore.
#34 of Project 366 Blog Photo Challenge