Swimming lessons is part of Spring Grove Elementary curriculum. I let my eldest participate thinking that it would be a good experience for him, so he will be more flexible and learn the basics of swimming. Last 2 weeks ago, was their schedule of swimming lessons in the High School building where the school pool is. They only have 1 week swimming lessons and Parents had the chance to either be an observer or a watcher in the pool area. To be a watcher, you need to have a license in swimming I think. And if you signup for an observer, you can only watch from the benches above. I signed for an observer of course since I dont know how to swim. lol., And I want to see Kuya swimming and having fun with his fellow classmates.
Below are their class on the second day of swimming.  JJ is by that orange cone next to the boy. I know its not allowed to take pictures! But I still did it! LoL! I have to document it for my son. I was very proud of him cause he was able to follow what the teacher said. I was really glad that they have activities like this in school. Too bad that Jian was not able to attend all the lessons because of Viral infection in his throat, so his grade in this lesson is…Continue Your Swimming Lessons. 😀 I wonder what that means! hehehe… And what kind of grade is that? LoL!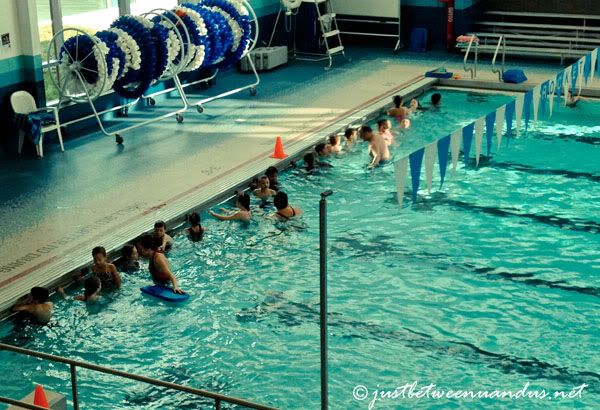 Below is the big pool of Spring Grove High school.