Silk flowers have captivated the nation with their beauty, durability and functionality. However, it is sometimes difficult to decide on real vs. silk flowers. Specifically this article will address the use of silk flowers for gifts and in weddings.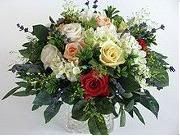 Gifting
Often the term 'fake flowers' has the effect of making the consumer feel they are cheap and shouldn't be thought of for use anywhere; especially not as a gift. With the use of silk flowers, nothing could be farther from the truth. Lets use the example of a suitor trying to romantically impress a lady.
Nothing on earth can duplicate the fragrance of real flowers, or rival a bouquet of long stemmed roses. The drawback is that very soon they will wilt and die, becoming a fading memory.
On the other hand, silk flower bouquets are equally as beautiful, without the fragrance. When receiving a silk flower arrangement, the lady will be able to enjoy it for years to come, and every time she walks by it she will think of the person who gave it to her.
The suitor's choice is obvious; does he want to impress the lady for a week, or a lifetime?
Weddings
The use of silk flowers in weddings is on the rise as many people are drawn by their beauty and cost vs. real flowers. However, there is still contention concerning the bridal bouquet.
Tradition mandates that the bridal bouquet be 'fresh' flowers. 'Tradition' means an act that has been practiced for many years.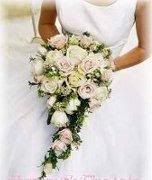 The original bridal bouquet consisted of whatever flowers were growing in the garden at the time of the wedding. That tradition has escalated to the point that flowers are a huge part of weddings, and they rank in the top on third for cost of the entire wedding. In reality, the 'tradition' has undergone many changes since its first use.
The same as the above suitor, a bride must select between fresh and silk flowers for decorating, centerpieces, boutonnières, corsages and the bridal bouquet.
The use of silk flowers for decorating, centerpieces and for the wedding party will save quite a bit of money. Money that can be spent elsewhere for the wedding, or go towards the honeymoon. All concerned will go home with a remembrance of the wedding that will be beautiful for years.
The use of silk wedding bouquets allows the bride to have and cherish her beautiful bouquet for years, bringing back all the wonderful memories of her momentous day. Unfortunately, bridal bouquets made from real flowers look rather like a clump of dead weeds before she even gets back from the honeymoon.
Now you know the benefits of both fresh and silk flowers for gifting and for weddings. The choice is yours to make.