Hello Everyone! You might be wondering why I posted the #136 Challenge here rather than in My Photo Meme blog. Its because the server of that blog is down since this morning. I dont know when it will be online, so I decided to continue BPC here. But as soon as it comes on, I will continue posting there. So for the mean time lets have the challenge here. 🙂
My today's BPC is my son Jian. Photo below was taken 2 weeks ago on his last day of No Screen Time. No Screen Time means, no TV, no Netflix, no computer, and no video games for one week! Yes! that seems pretty tough for a second grader huh? But to my Jian it was a very easy tasked. He made it without watching TV and no video games for 1 week. I sure am so proud of him. Last year, they have this activity too, and completed it successfully.  He sure has a lot of self control for his age. Well, thats my boy!
Kids that have completed this activity will get a special awards from school and that includes extra recess, that made him feel motivated to finished this tasked. He wants extra recess! lol. Parents were given a card everyday to fill out if they have successfully did the No Screen Time activity on that day, and have to write down at the back the stuff they did.
My Jian did a lot of stuff in order not to get bored, and of course I helped him out to to accomplished this tasked. He read lots of books, we did puzzles together, play outside, we did some crafts, and art works. The most favorite thing he did was reading this Train book that we borrowed from our local library. Its a pretty big book for his age, and he was able to finished reading it in one week. Pretty awesome huh! He was seriously reading it, as you can see the photo below. 🙂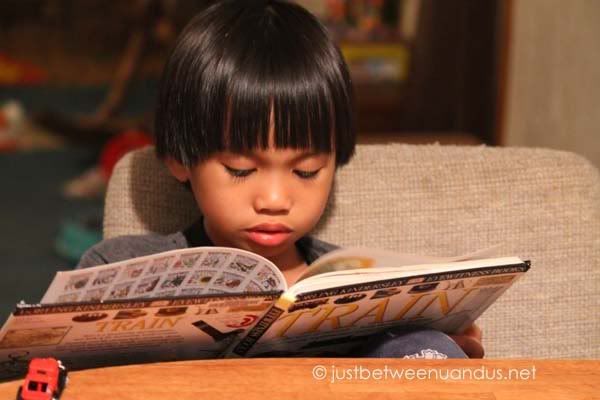 Here he is so happy that its his last day in No Screen Time.