Happy Monday Everyone! Its 4 more days to go to see my old folks again. I cant wait to see them, I miss them so much specially the stuff they are bringing. hehehe.. Hope it will all get through. 🙂
Photo below are my folks when they were staying in Bayview Hotel Manila for my dad's interview in the US Embassy. This hotel is located just across the US Embassy, so if your folks have a Visa interview schedule, Bayview is the best place to stay.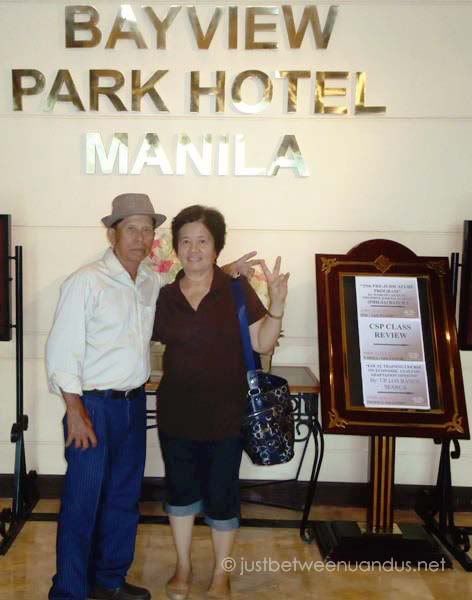 Im sure my mom and dad are pretty excited for their trip by now. They are super excited to see their grand kids specially my dad who misses JJ so much. Its been 5 years since he last saw Jj. He'll be surprised on how grown he is. Im happy that my dad will finally see US in person, not just in TV. Coming here is like a dream come true to him. Its my Mom's 3rd visit, so its not new to her. Still pretty excited cause she will be traveling with my dad this time. I sure cant wait to tour them around here in the East Coast, and experience the Life here in US even just a short time.