I was so busy yesterday doing a lot of stuff. After I got home from the Pizza Party in my sons Homework Club, hubby asked me to help him photograph his collection of junks. While I was helping him, the kids were busy playing in the yard. I asked my Kuya to watch his little brother, while I help Plop Plop. He said yes right away without complains, and followed his baby brother anywhere he goes. I am so happy that I can rely on my Kuya, he is such a good big brother. Photo below shows how good he is to his little brother. He was holding Claytons bicycle, making sure that the little one will not fall off, and of course I was watching them from the garage. 🙂
Aren't they so sweet? Yes, I love Brother moments like this, watching them makes me teary-eyed. My babies have grown so much already, how I wish they stay little so I can cuddle them forever.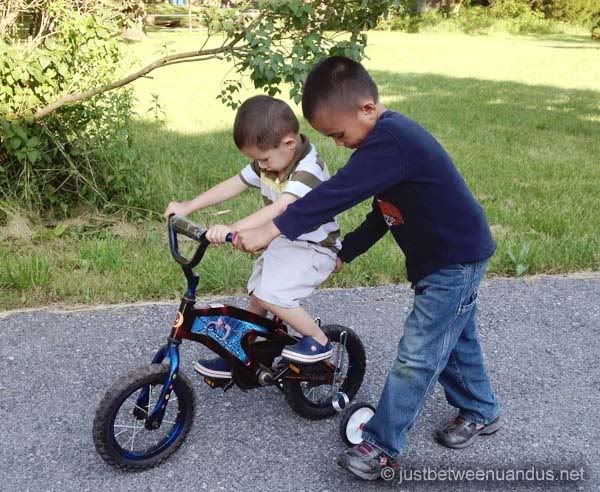 Thats our day yesterday, how about you? Hope its a good one too.
By the way.. Mom and Dad are coming tonight!! Super excited here!! Currently they are now in Detroit checking out their luggage. 🙂 So its gonna be another busy day here for me, catching up with my online job, and later doing some offline work.