I would like to share some of our photos of my Mom and Dad last day here in US. This is kind of overdue, because its been a month already since they left, and was never got the chance to blog about it, since I got caught up with the moving and all. Anyway, it was a very emotional day for my folks and of course for me and my kids too. In their 3weeks of stay here, my kids got so used to them that even up to now they would asked me where is Lola(grandma) and Lolo(grandpa), specially the little one, who misses them so much. Before he goes to bed, he would asked me where is Yoya, and where is Yoyo, and he would asked me to call Yoya(grandma), isnt that so sweet?
I sure want my folks to stay a little bit longer maybe a month or so, but they cannot, due to my dad's business. He is already 73years old but he still works and run his garbage business in Davao City. He is not used to not doing anything, so during his stay here in US was like the toughest for him, not only that, and weather makes it more difficult because it was too chilly for him.
Anyways, the photos below were taken at Ronald Reagan International Airport in DC. As you can see, my mom and dad were in the brink of crying, I know they are gonna miss my 2 boys, specially my eldest who they nurtured since he was 4months old to 3 years old. Saying goodbye was sure not easy, maybe next year we will see them again. 🙂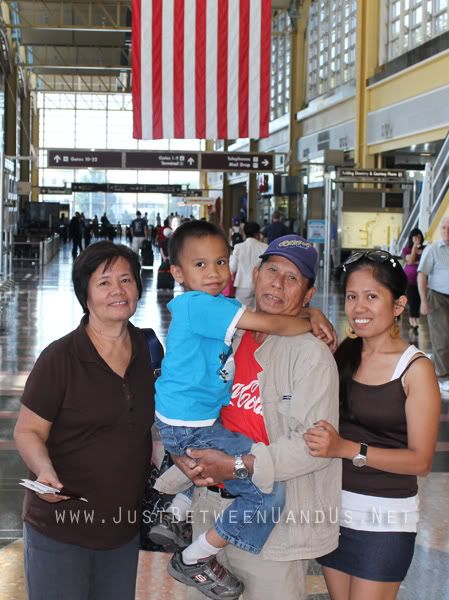 In Ronald Reagan International Airport.
Before saying goodbye.
My folks saying goodbye to Kuya Jian.