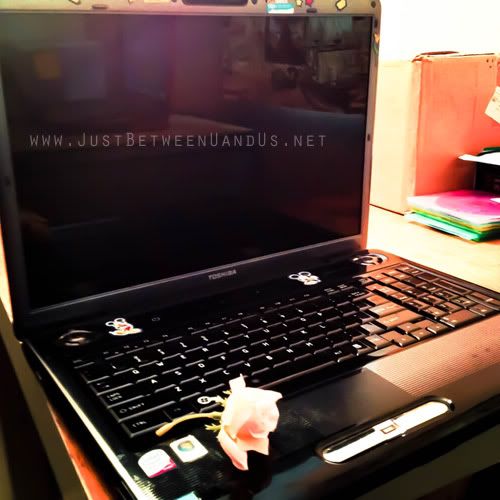 This is my old baby. It has served me well for almost 4 years. A couple of weeks ago, it decided to quit working on me, I mean right in front of me when I just finished installing all my software needed for editing photos. It was so sudden that it shocked me for a bit caused I just recovered it twice! from a virus that attacked my system. Hubby saw everything and was trying to make me feel better by telling me to order another laptop at ToshibaDirect right away. In spite his words, I still feel sad about what happened, cause I love this laptop so dearly. It was like part of me. I wanted to take it to Phil and have it fix there. It probably just need a new Video Card, or something. I hope it can still be fix.
Anyway, while I was waiting for my new laptop that I ordered at ToshibaDirect, hubby let me used his unused Laptop. Isn't he the sweetest? I have to change its settings to my settings and install all my software editors, in order for me to move around and get on with my business. He didnt mind me changing, as long as I will returned it to its original afterward. What I missed most of my old laptop is the finger print reader  to log-in to Windows. Hubby's laptop dont have that special spec, I have to type the password inorder to log in. Oh well, you cant have everything, right? I am happy that I got a laptop to work with. I think I will die without one! lol!
Lucky, hubby always have extra cash, if something happens like this. At this moment, I am using my new laptop and dont have to used his laptop anymore. I feel relieved and comfortable that I am finally using my Own. You know that feeling dont ya? Well, I will post about my new baby some other time. I just want to share what happened around here in our humble abode a couple of weeks ago, so see ya around!