It was a fine day when I took my kids out around our neighborhood for a walk. Hubby was busy mowing then, and I thought it would be perfect to have some outdoor activities with the kids since most of our time is spent indoor. Its been a while since we stroll around the yard due to the unpredictable weather here in east southern PA, and I'm not that enthusiastic enough in meeting neighbors either since we have no plans in staying in this neighborhood for good, so we only go outside if hubby is around mowing, or during weekdays that everyone is busy. 🙂
We also took the bicycles out that day, and ride up and down the street. I have to watch my kids closely because there are cars passing by in our street. Good thing JJ listens to me and stayed on the sidewalk, while the little one, I have to push him from time to time, since he cant push hard on the pedal yet. If you notice, only Clayton is wearing a helmet. I know Jian needs one too, but since I'm always there whenever he rides his bicycle, thus I never bother to get him one.
Here in US, its in the law that a child below 17 years old should wear a helmet, but I notice only few follow this law. Maybe if you are in a park, or in your own neighborhood, or maybe within your yard, and as long as theres an adult with you, its okay not to wear a helmet. But little ones, like those first time riders who are in training wheels, must wear a helmet at all time. Clayton's helmet is used to be Jian's, he has knee pads and elbow pads too, but he doesn't want to wear them, because its so big and uncomfortable for him. And Im always there to catch him whenever he falls, therefore it doesn't matter much.
It sure was a great day! Check out the cuties below, enjoying their ride along the neighborhood, soon enough Clayton will be riding his bicycle without the training wheels.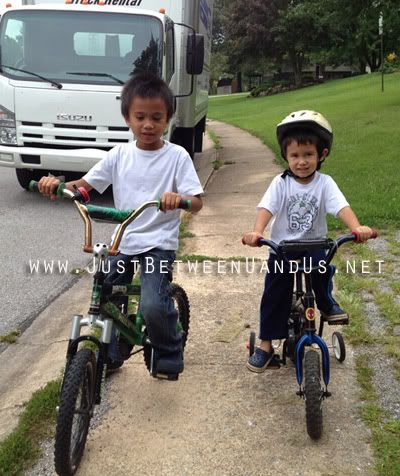 FYI, their bicycles are hands down. Isnt that great! Its good to have lots of friends who will give you their old stuff that they dont need anymore. 🙂
Share this photo to Wednesday Whites and #240 BPC