The Lola and Lolo (grandma and grandpa) from Philippines, sent some presents to my eldest son last month. We received it just a couple of weeks before his 8th birthday, which was Nov. 11. When he got home from school, he was so happy when he saw the box from Philippines. He knew right away that its his birthday presents, because he heard me talking to my mom in Yahoo Messenger that they sent a birthday surprised for him. He opened it right away, and was so happy about it. Not only that, the youngest got some presents too. Of course, you cant give Jian without giving the other one, or else, it would be a disaster! LoL!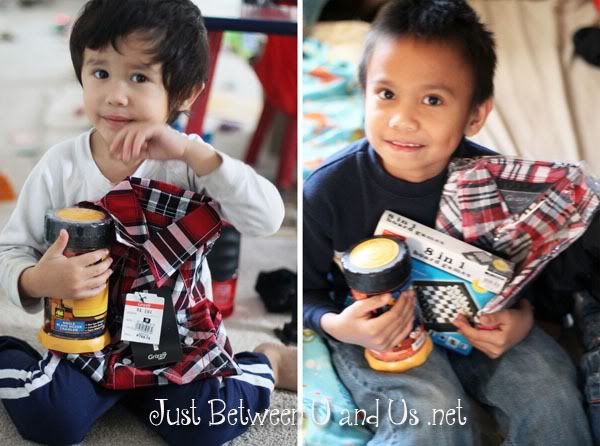 Anyhow, it was still a bit of disaster, because the little one was checking on Jian's present. He said why he didnt get a puzzle. LoL. He thought the chess board is a puzzle. You can guess what happened next.
-He grabbed the chess board from Jian's handb without asking first. But Jian just let him have it, because he believes that the little one doesn't know what he was doing.
– The little one played it for a couple of minutes, then throw all the tiny pieces anywhere on the floor.
– Then a loud Ouch noise was heard, due to somebody step on it. And guess who step on it? No other than me! LoL
Thinking about it makes me smile. I am just glad that they get along so well, and the big guy just let the little guy get away with anything. 🙂
By the way, aside from the chessboard, both of them got a Grizzley Polo shirt, and a put together Toy Truck.