Yes, I am not done posting about Halloween yet, in fact I still have more to share. It just shows that we did so much last Halloween that my kids had a blast, in spite that our trick or treating was postponed in our Township. Anyway, I want to share to you some photos at the Karate Club when they had a Halloween Party a week before Halloween. My son has just joined this club and was so happy to attend the Party. It was super fun, lots of excitements going on, and lots of yummy treats. Almost everyone came with their cool and scary costume. My son was dressed in a Ghoul Pirate, and I dressed up my little one too as a baby skeleton even though he is not part of the club. Check out the photos below to see what happened in the party.
The Karate Kids! ehYah! 😀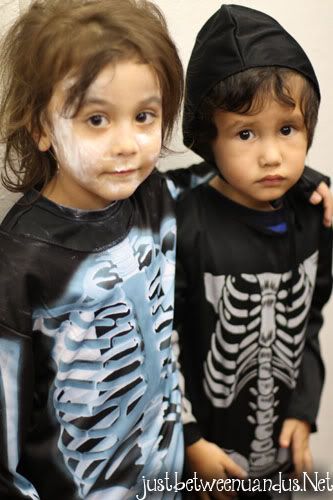 Clayton and Benny – the joiners, looking so cute in their skeleton costume.
Some fun games that my kuya was so excited to join. It was fun for everyone!
Some of The treats. =)
At the end of the party, every one got a goody bag. It sure was fun. How about you? Did you attend a Halloween Party too?