I just want to share this toy here in the photo below. Its a handmade truck that my dad made for my eldest when he was here last Summer for a 3 week vacation. Even though its not as fancy as his other toys, this has been my eldest favorite toy. This toy is very special to him, my boy knows its worth. If you look closely, you can read the words that my Mom wrote. It says, ' To JJ and Clayton, Stay as good as you are, We love you & Be good boys always, from lolo and Lola'. Isn't that sweet? She dated it as well.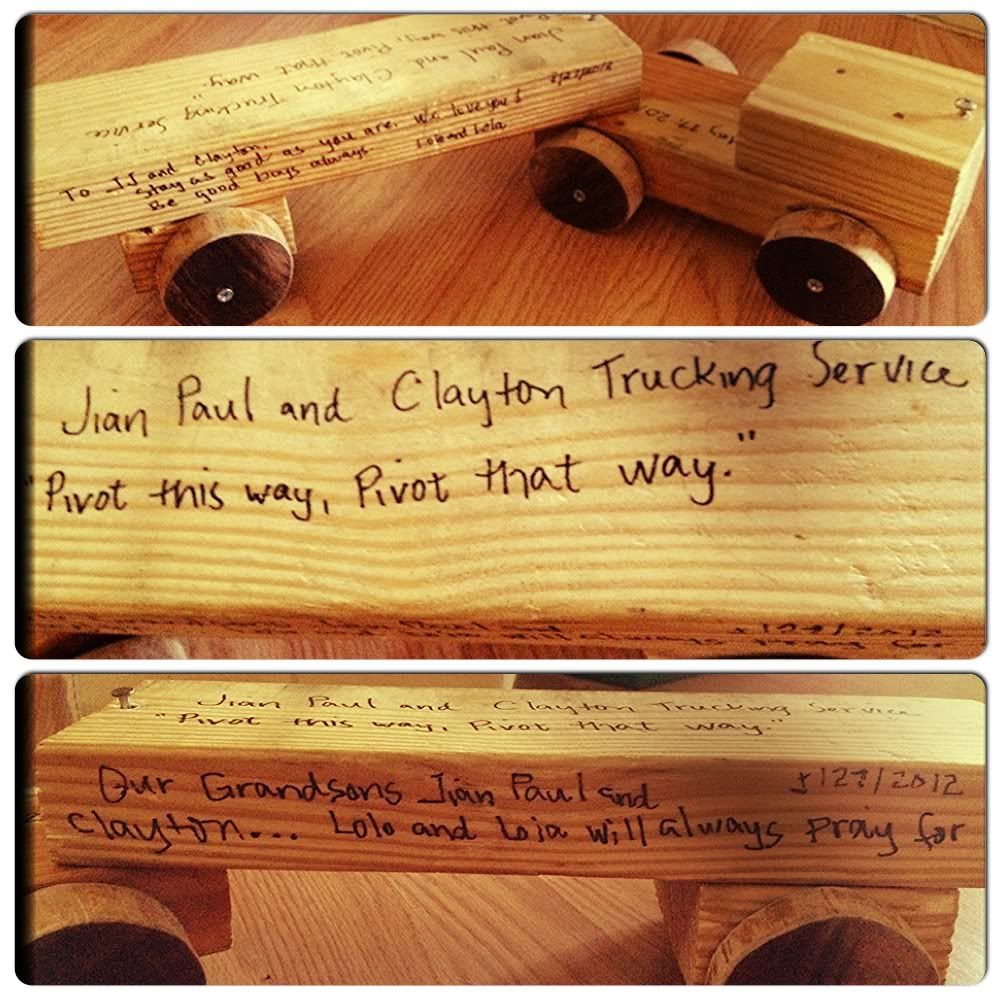 My dad made this truck from pieces of woods that he found on our yard in the old house. The wheels are from the branches of the pine tree that he cut, saw, and sanded. It was not that hard to make if you got all the tools that you need. My husband has all the tools, so my dad finished this truck in no time.
Check out my boys below, cant wait for my dad to finish the new truck.
Its been awhile since my Mom and Dad were here, but my Kuya still play with this toy, and carry it anywhere with him inside the house. Sometimes he would bring it when we go out, but I always told him to leave it in the car, because its too big to carry and heavy too. If you can see my Eldest face, you will really see how proud  he is of his truck. He was gonna bring it with him for Show and Tell in school, but I told him to pick another toy to share because its too big for him to carry to school. I dont think it would fit in his book bag. Maybe I will just print a picture of this toy to show to his teacher and friends, that way, it wont be too much for him to carry.
I am sharing my photos at BLog Photo Challenge #309/366