Plop plop got his eldest the Nabi 2 kids tablet for his Birthday. He took Jian to Best buy to get his present. It was a surprised. The kids didnt know what we were getting, and when we told them what were getting they were so Happy and excited, that they wanted to go home right away and play with it.
At first, we let JJ looked around to see which one he likes. But hubby and I were hoping that he would like the Nabi 2 which is perfect for his age, and to share with the little brother. We were glad that he chose the Nabi 2, its probably because of its color which is so attractive to the kids, and the applications that came with it were just awesome. I will do a review about it on my other blog, as of now I just want to share to you guys what plop plop got for his number 1 son.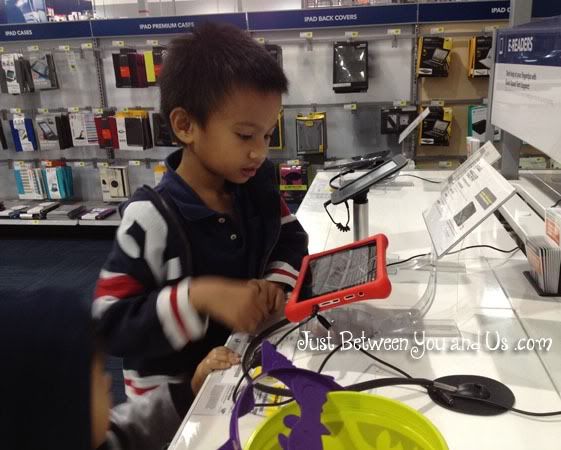 But guess who got the hold of it first when we got home. Yes! Clayton! lol! Look at that funny face. LoL. He knows that its his Kuya's Tablet, and its Plop plop surprised to Kuya. He usually asked that he wants to play Kuya's surprised, and sometimes would asked his kuya if he can play his surprised. The answer doesnt really matter, because he would grab it right away before you answer. LoL! Such a rascal dont you think? But kuya is happy to let his baby brother play with his surprised. 🙂
Here is  Clayton learning how to write the ABC's.
I wonder what happen to the pencil and paper?
Anyway this is my entry for BPC 337/366