After watching the Epic movie with the kids and Mom, Dad picked us up at the Mall and took us to the Mountain Top for Dinner which is located at the Diversion Highway, Davao City. It used to be Dencios Kamayan Restaurant, now its Vista View. I remember my first time to dine in this place, it was with the X. He took me here and there was not much people because it was late afternoon. The view was not as spectacular like in the evening but it was enough to enjoy the place.

Anyhow, this place would be perfect if they have some kind of insect repellents because there are many flying insects that are ready to dive in your food and mosquitoes that will feast your legs if you are wearing shorts. Not to mention giant spiders by the restroom. Thinking about it made me laugh though cause my kids were screaming at the top of their lungs when they saw the GIANT spider. lol!
Anyway, the food was great, even though it was kind of slow, probably because the restaurant was full that day and there were only a couple of waiters who were serving.

We had a Grilled Squid, Grilled Tuna Jaw, and Pork Barbeques for the kids. Yum Yum! It was yummy! The kids loved their food and was able to finished a cup of rice. Their rice was unlimited so we had a plateful of rice.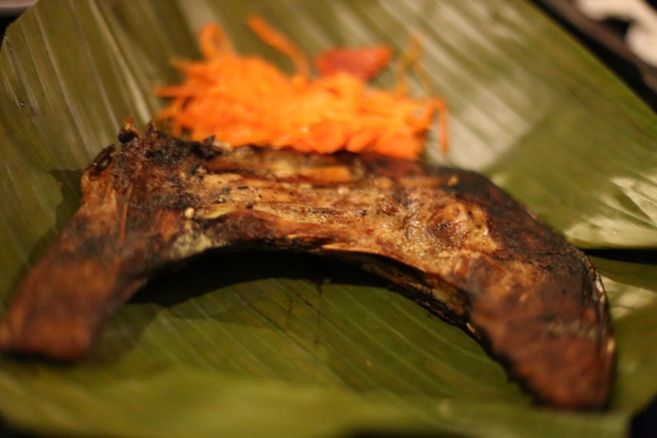 After a while, the flying insects was no longer a bother because we were busy munching all the foodies. Top it with the view of the City from where we were sitting made it more zestful to eat.
My kids just loved the view from the top. I have to watched the little one closely because it is very steep from the rail. He might stick his head out and roll down from the steep hill.
Well, there you go, I hope you enjoyed reading my post for today. I will see you tomorrow for another day of BPC!