Last Sunday was my niece 6th Birthday. We decided to celebrate it at Seagull Mountain Resort located at Buda, Davao Del Sur which is an hour and a half drive from home. It was my choice to go there cause I want to see the what this place looks like after 15years since the first time I visited it. It was my second time to visit this place last Sunday. I remembered 15years ago it was not fully developed yet, and the view was breath taking, so natural, and not crowded. I love it before when it was still like that, now it's too crowded to enjoy nature. I guess other people like us want to see the place too and have some fun with their family and friends.
Before there was no shuttle(photo below) yet that will take us down to the Falls. My sister and I walked a couple of kilometers in order to reached it. Now it would only take a minute to get there because of this shuttle. But if you want to hike down the falls, you can do that also. But since we got a lot of stuff to carry and the kids – we decided to ride the shuttle instead. By the way the entrance is 150 for adults and 65 for kids. That includes the ride of the shuttle, open cottage, and the use of facilities by the Falls.

Anyhow, it's not like Niagra Falls or Maria Cristina Falls, it was enough for us to enjoy and experienced nature in spite the big crowd that day. The water was chilly but the kids were able to endure it and had so much fun swimming, sliding, and jumping to their man-made pool that is close to the falls. Clayton can't take the cold Spring water, so he just keeps on wandering around exploring the place and looking for pretty rocks that he can keep.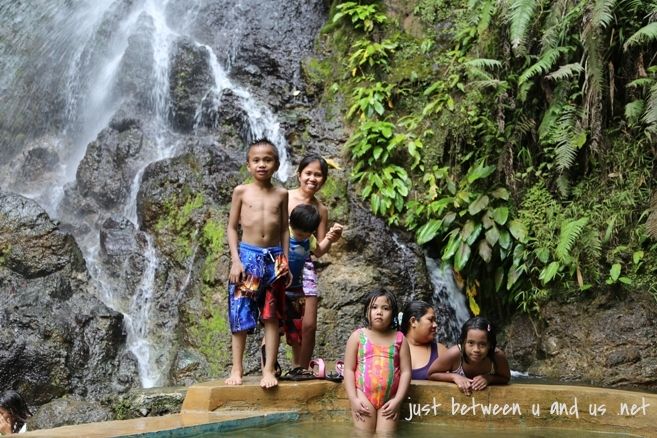 There are 5 pools here. 1 kiddie pool, 2 3-4ft pool, and 2 5ft pool. Photo below is one of their pools.
Me and Clayton checking the falls and below photo is my mom and dad taking a pose.