If you are from Davao City Philippines, you can tell right away where was this photo taken below. Yep! This was taken at The People's Park which is located in the middle of the City next to the Apo View Hotel. The People's Park is one of the most favorite place by the Dabawenyos to visit. The park is very clean, very peaceful, and so relaxing to hangout with friends and family. Last Thursday after our dinner at the Yellow Fin I took my kids here to play, and since school started already, the place was almost empty. My kids really enjoyed strolling the place even though it was a bit humid that day. I took a lot of snaps and below were among them.
When you enter the park this Eagle sculpture is the first thing that you will notice. With it' magnificent wings and huge beak who wouldn't? My kids asked me to take a photo of them with the huge eagle.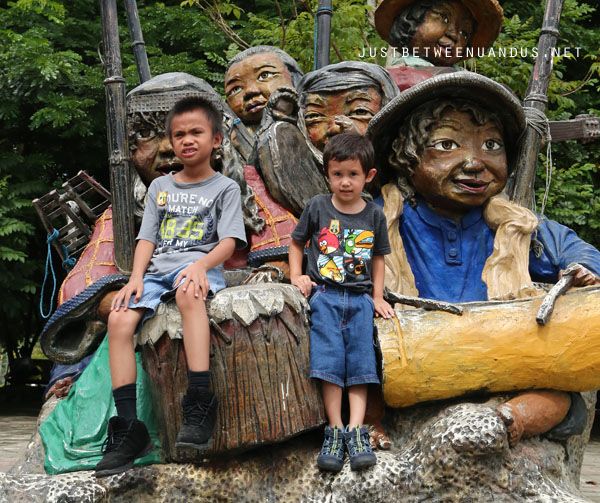 And here are they again in one of the sculptures located in the middle of the park representing people who play local musical instruments.
By the pond. My kids had fun feeding the fish. Good thing I have a left over Bibingka in my purse for them to feed the fishes.

There were so many pigeons in this area and lots of benches as well where you can sit and feed the pigeons. Clayton loves to chase them.

Photo above is by the Playground. The little one want me to take a photo with Jian by the yellow flower. =D
Well, that's it folks, hope you enjoyed my little tour inside the park. Some people might think it is not special or just an ordinary park, but for Dabawenyos it is a very special place where they can safely relax, sit for a minute, get away from the traffic, and have a picnic with their family.