Kids and I departed Philippines on June 19 7am. Our flight was on time, I was hoping that we will get to San Francisco a bit early as scheduled. But as we arrived in Narita, I was disappointed when they announced that our Flight was delayed for 2 hour cause they were still cleaning the aircraft. I was worried about our connecting flights, I was sure that we will not gonna make it. I asked one of the Delta Agents of what's gonna happen to us. She said that they will give us a new boarding pass when we arrived in SF, and no need to worry about extra fees because it was their fault why our flight was delayed. So we were stuck in Japan for four hours fiddling our fingers. I was glad though that my kids that time were still in their best behavior. Good thing the Airlines offered a Meal Voucher of 1000 yen for us to spend in any of the restaurants in the Airport. We had a scrumptious dinner – a Ramen soup for me, teriyaki chicken for Jian, and some crispy chicken for Clayton.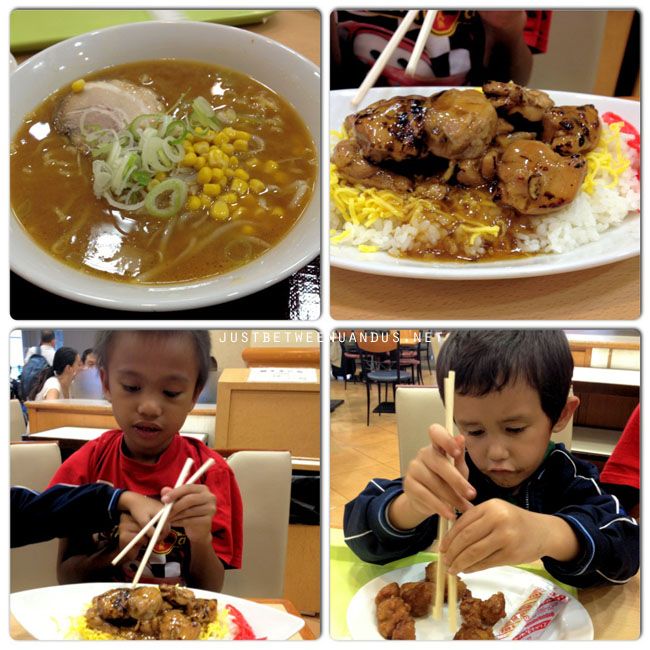 I was not sure if I find the food tasty or not, all I know I was very hungry, and so does the kids.
Our flight from Narita to San Francisco was so smooth. Kids slept throughout the flight while I watched a movie in Delta's entertainment. When we arrived in San Francisco, it was almost 12pm. 12pm was supposed to be our flight to Detroit but due to the delay, we missed it. It took me 3 hours to get a New Boarding pass because there were so many passengers that want to get a new Boarding pass as well. After hours of waiting to get a boarding pass, my kids started to feel so uneasy and hyper, I even almost lost Clayton in the crowd! When I found out that he was not next to me, I panic right away and searched for him end to end of the Terminal until I saw him by the far end standing still. He was gone for 10mins, and that 10mins made me feel like I am gonna die. God is good, I spotted him in spite the thick crowd. After we got our new boarding pass, I felt so relieved and ready to sit still. But got to finished all the transactions first before we sit down and relax so that we dont have to worry about anything later on. We were able to get a flight to Detroit at 11pm. Good thing there were still seats available or else we might sleep in the airport and wait for our flight the next day. Whew! It's like 12 hours delay from the original sched. The airline ones again offer us a meal voucher for $25 each and a travel credit of 100$ for the future.  After we checked all our luggage, we head to the gate right away and get some munchies and wait for our flight. Oh I was so tired alright and want to get some sleeps. My the kids were super hyper especially Clayton who is running around like crazy and screaming on top of his lungs. It made me think of knocking him out so I can sleep too. But I know in a condition like this, I could never fall asleep. It sure was a very tiring experienced that I wish would never happen again.