Photos below shows our Christmas Day morning. As you can see the kids were patiently waiting to open their presents for Plop plop to wake up so we can open our presents together. They were able to open their presents around 11am for hubby is very slow in the morning. LoL. But no complains from the little one which made me feel very proud of them.
Our Christmas morning sure was very meaningful. The kids loved all their presents even though it's just a small thing like a ribbon for their typewriter. Well, that's what Christmas is all about right? It's not about the amount of gifts but from our hearts.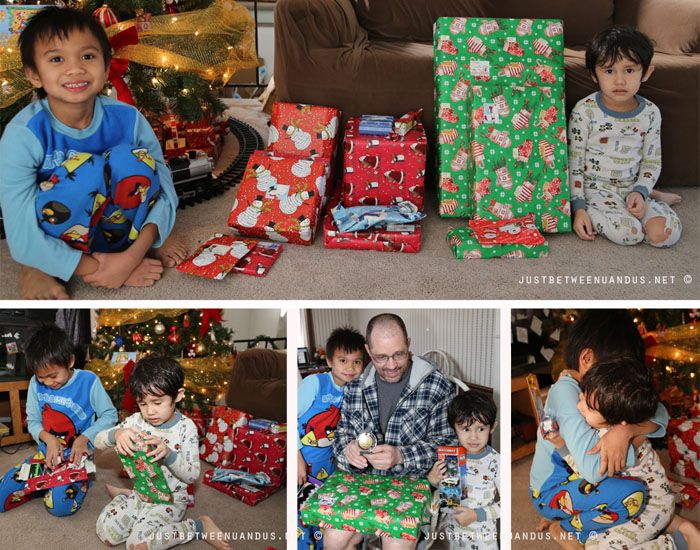 My Kuya got a new Wii Game from me that I ordered from Ebay. He also got a Mind Boggling Game from Clayton, a Giant Eyebrows and mustache from Plop Plop, and a typewriter Ribbon (which he wish to have) and a Spy Gear from Santa.
As for the littlest, I got him a Jack and the Never Land Pirate Board Game, a Hotwheel Car from Jian, a Hotweel Cars Set from Plop Plop, and a Hotwheel Twister from Santa.
As for Plop Plop, he got a No.1 Dad Trophy from Jian, a Jelly Belly plate from Clayton, an iPhone charger from me to put in his truck, and a Ear and Nose Trimmer from Santa. Of course it was really from me. LoL!
As for me, hubby got me a pretty vanity Mirror which I love so much and a macro lens which came later! I also got a No.1 Mom bracelet and a No.1 magnet from Jian. Isn't he the sweetest? It's the best present ever that I received. I sure love my boys. Our Christmas this year was sure extra special =) How about yours?