On the 4th of July, my family and I went to Lake Marburg in Codorus State Park to have a little picnic before we head to town to watch the fireworks. Hubby took a day off that day so we can have a lot of time to play around before the fireworks starts. The original plan was to take the kids bicycling, but when we tried to put some air on their bikes, the tires blew up. I guess because it was so old and thin, good thing it didn't blew on the kids. Since that ruined our planned, we decided to go picnicking at the Lake. Good thing Hardees's Fast Food Chain was open that day, we grabbed some foodies from there and head to the Park. It was 5pm when we arrived and I was surprised that there were still lots of people picnicking and swimming in the lake even though there's a big sign that states 'No Swimming'. They were swimming like right in front of the sign. This really made me laugh a bit cause I thought Pinoy's are the only ones who do stuff like that, like 'Don't Touch' and would still touch it. LoL.
Anyway, we found a nice shady spot in the park which was not visible to everybody. Good thing I always have an extra blanket in the car, and a beach chair so I don't need to worry about it every time we go out in a place like this. I also have the beach umbrella in the car just in case we need it, but that time we didn't used it because there's a lot of shady spot in the park.
It was so relaxing, not so humid, and love the fresh breeze from the trees and the lake. We had a hearty dinner and the kids enjoyed their Hardees kids meal. After dinner, we played by the lake, let the kids soak their footsies, and throw rocks in the lake until the kids got their pants wet and was not able to prevent Clayton from getting wet all over.  We didn't brought extra clothes cause we don't have a plan on coming here, but I let Clayton swim in the lake thinking that I will just wrap him with the blanket later. Jian wanted to swim in the lake too, but I didnt let him cause I dont want him to get wet all over.  And he is a big boy to get naked in the lake, unlike Clayton, it's okay if he swims with only his diaper on.
Anyway, below were our photos at the park.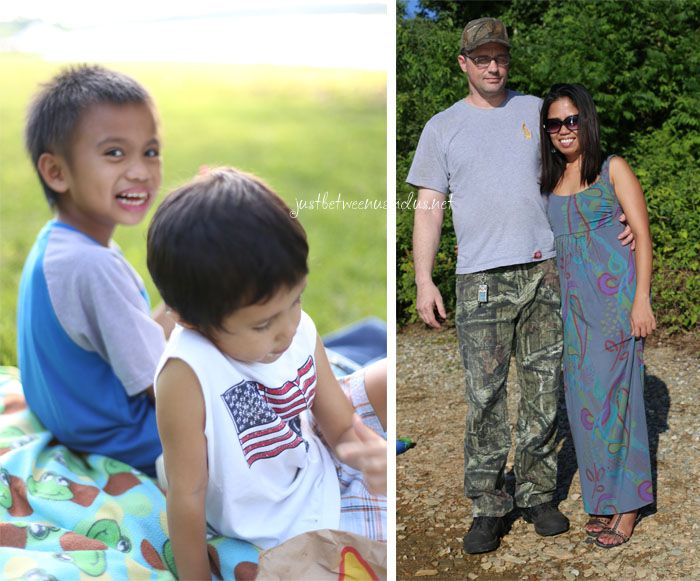 Clayton can't help himself to get wet.
Jian trying not to get wet.