Perfect Storm Sandy ruined our Halloween Night, for our trick or treating was cancelled. Good thing it was rescheduled this coming Saturday on Daylight, which is not so much fun at all, cause I prefer in the evening when it gets dark, to add more fun and spookiness to all trick or treaters. However, I am still glad that we are having trick or treating this Sat.
Even though our Halloween Night was not as fun like in the West and in Central US, I still make it fun and memorable one for my little ones by doing the Traditional way – carving our Jack-o-Lantern, and lighted it up on the Halloween Night to keep the ghouls away. It kept the ghouls away last night alright. Outside was so quite, nobody was knocking on any doors and say Trick or Treat! Nobody was handing out candies either. Not even a single person or even a shadow lurking in our street. It was supposed to be a fun night full of tiny people in their scary costume, but it was very quite, windy, chilly, and a bit spooky.
While it was very quite outside, the little one in the house were very busy doing their Jack o Lanterns. The little ones help me take the insides out while I did the carving. I asked them what they want their Jack O Lantern look like. My eldest want a Happy Face Jack O Lantern, while the little guy want an Angry Face Jack O Lantern. I guess that reflects their personality huh? LoL! So I designed their Jack O Lanterns and they were so happy with the result.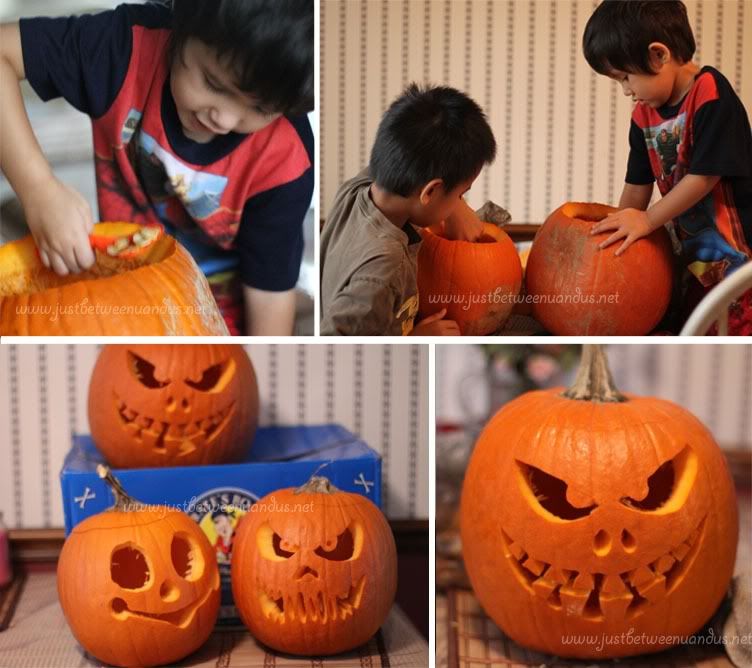 Photo below shows their lighted Jack O Lanterns.
Jian's Jack O Lantern on the far left, Claybob's Jack O Lantern in the middle, and Plop Plop's Jack O Lantern on the right. They love it! We watch it last night as it glows. It was a bit more spooky after we lighted it.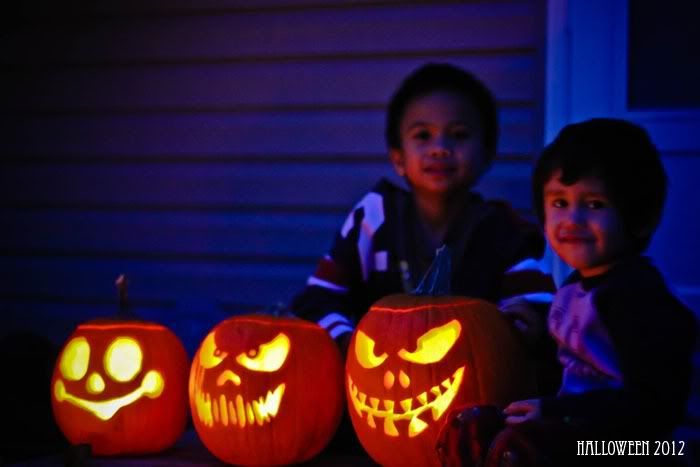 Blog Photo Challenge #306/366 hosted by Recel of SAHM Collections