Prior to my previous post about The People's Park, photos below shows the little Library in the park.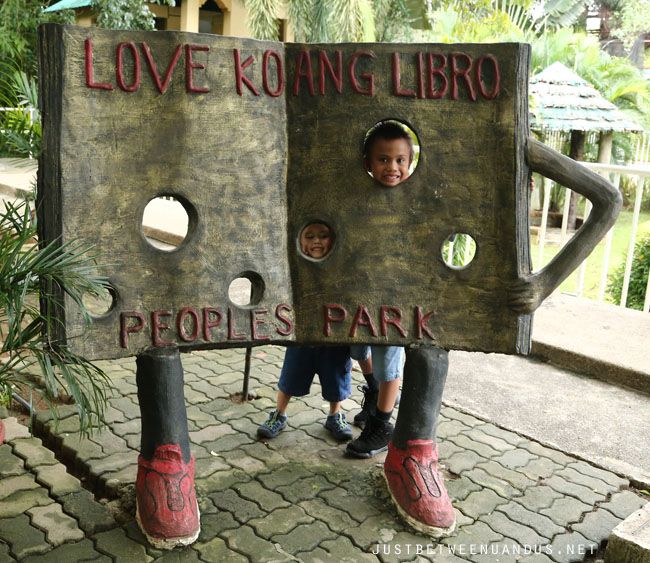 When my kids and I were strolling, we noticed this sculpted sign that says Love ko ang Libro(I love Books). My kids pose right away and want me to take their photos. I was wondering why there was a sign like this posted in the garden, I thought it's probably to remind kids to learn to love and read their books. I was feeling so hot already that time that I didn't noticed the small room in the corner until my kids went running to that direction and started peeking in between the cracks of the windows. There was a small sign saying Park Library, from the outside it look like it's closed. But it's not because the little one was able to turn the knob and poke his head inside. The place is AC that is why the windows were close. I poked my head in too and noticed a guy by the desk. I asked him if the place is open, he said Yes. I asked again if we can come in and read books, he said Yes too but we need to removed our shoes. We went in right away leaving our shoes by the door. I felt so relieved when I felt the cool air from the AC. I was sweating non stop and that I could finally refresh while the kids read some books. The cool air from the AC sure feel so nice alright after all that walking in the park! =D
Anyway, photo below is the inside of their mini library. The lady attendant who later on came-in told us that the library is open everyday, and they have story telling every Sunday. Sounds like fun for kids but it made me think that it's probably crowded during Sunday here cause the place is tiny and theres only few books in their shelves. Lucky when we went their it was school day so the place was empty. My kids read books for an hour before we left the park which I thought that they would never leave until i mentioned Jollibee. I tell you it was a fun day for my kidos. Seeing them so happy sure made me feel so happy.